A practical report with impulses for implementation with illustrations, input from experts, and interviews with SMEs.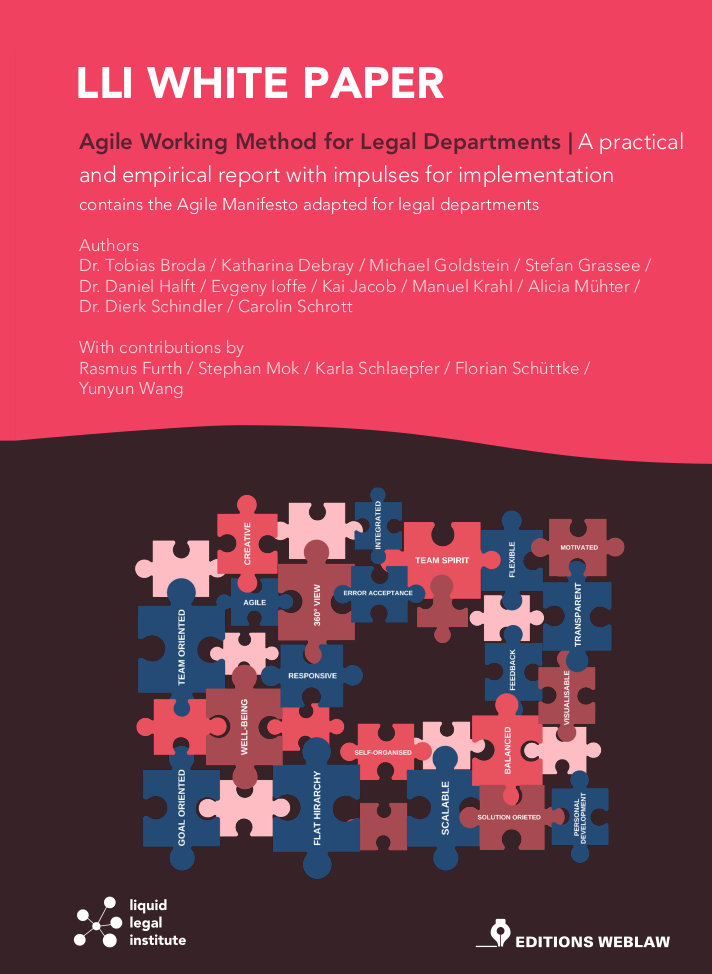 I'm delighted to be part of this useful collection of agile methods and reflections that kick-start change! This LLI white paper is – part of a series produced with Weblaw publications – makes clear that legal challenges can be solved using agile processes. Key take-aways focus on the practical perspectives with lots of examples of agile learning by doing. There is a new "legal" version of the Agile Manifesto and people-centered visuals by Su Reiter that makes reading this smart resource a joy.
Karla's interview on Agile Change is on pp.61-64 of the white paper. And here 😊
---
LLI WHITE PAPER; Interviewed: Karla Schlaepfer, Professional Coach and Change Manager.
LLI: Who are you, what is your expertise?
Karla Schlaepfer: PCC certified business coach, scrum master, product owner, and design thinker at heart and practice. Book author on cultural change processes. Born in Southern California, first degree UC Berkeley, M.A. Freiburg University. I have been living and working in Germany and internationally for 25 years. Active in LLI since 2019. I am the founder and CEO of the innovation agency DesignChange.
LLI: How can you help legal teams and leaders understand and take steps towards new agile ways of working and change?
Karla Schlaepfer: Setting up the right environment for change is key. Legal leaders and partners are the empowering agents of change; curious to try out new technology, agile processes, and leading the way with a "growth mindset". For digitalization projects and other agile changes to the legal workflow to succeed, leaders are invited to develop a growth or open mindset to learn to approach change issues from a different angle. To mentally reset problems into challenges. An individual with a "growth mindset" (coined by Dr. Carol Dweck) thrives on challenge, learning new things, and uses feedback and setbacks as an opportunity for self-improvement.
Innovating change calls for a meaningful shift in an individual mindset; from knowing all the answers to asking good questions. There must be a payoff for change and the courage to look within. Change coaching by a professional can get the neurons sparking, unblock, and help realize more potent ways to apply strengths and passion. To ensure longterm results, however, it takes the entire organization. Forward-thinking legal firms reward their people for important and useful lessons learned, even if a project does not meet its original goals.
What was the learning for the next time? And there is always some form of learning for the next time! With management and partners as allies, legal professionals should be encouraged to collaborate across silos and collect valuable data from small agile experiments. Continuous learning can be unexpectedly inspirational, increase a sense of achievement, and strengthen the sense of belonging to an organization that values skill development and employee growth.
How should an agile change project be started? Steps and examples: Agile change management is the philosophy of introducing process and structural changes in the organization while using an iterative agile framework. Legal organizations must identify the need and communicate the purpose of change initiatives to all. One way is to adopt a transparent agile decision-making process to prioritize change strategies and ideas and put them into action. Set up a Scrum or Change team that includes representatives from all the affected departments. This team and their work should be responsible for planning, carrying out, and measuring the impact. Adopt a transparent agile decision-making process to define and prioritize those ideas and put them into action.
While culture plays a pivotal role in an organization, people's perceptions and feedback are the compasses by which we measure change buy-in. What shapes people's eagerness to change and willingness to adopt is very much part of the organizational fabric. While each of us is unique in our own disposition to change, it is the organizational culture that has a major role to play in the way teams perceive and deal with change.
Here are 5 steps to help you align your change process to a new culture and behaviors.
First, solidify your understanding of the existing culture. As part of the change planning phase, you and your team would have built an understanding of the existing organizational ways. You would also know how things normally work in this environment and have a clear understanding of the current foundation.

Second, outline new cultures and behaviors. A transformation requires people to think deeply and be bold in trying out new aspirational models. Why not try out an agile Design Thinking framework where legal stakeholders take on new roles in teaming, applying lateral thinking and shaping the future? Perhaps starting with a redesigned, client-centered NDA? Or a product or digital service or agile process that they themselves may later use? Important is the frequent communication and collaboration between your change team and their results with human resources, corporate communications, and change agents so that all parties can work together to access learnings, define new characteristics, and regularly iterate desired outcomes.

Third, showcase the results that underline the new culture. Define stakeholder engagements and ensure that culture and behaviors are built into the agendas. These could be direct communications, team meetings, videos, town halls, and fireside chats. Again, change leaders and change agents can model the new behaviors through clear actions during these engagements but allow space for. Human resources can help navigate cultural change and bring people along on the journey.

Fourth, make it visual and build the changes into performance reviews, recruitment processes, and business planning. Display the new culture and behaviors using visual references throughout the company. Make it easy for stakeholders to genuinely understand and question the new model. For this, you might try out a sounding board technique (also called sounding board feedback). With the sounding board, employees from different departments, divisions or even from different locations take part in moderated discussions. The topics come from the participants themselves. The facilitator guides with a light hand, mainly ordering and listing all the contributions and as a timekeeper. One big advantage of the method is that management can "put its ear to the ground" and gather unfiltered information. The open format means that virulent topics or worries – those that affect the workforce – will emerge. The sounding board technique can be seen as a kind of mood barometer for the change process.

And lastly, bring the changes to life. It is vital that you embed the new culture and behaviors into the company's way of working. Agile teams will also be more adaptable to the change because the management didn't dump the entire plan on them – instead the change or agile team was involved not only in the execution but also in the planning of the change.
LLI: What role does resistance play in change management?
Karla Schlaepfer: There will be resistance and as contrary, as it seems, the best maxim is to embrace the resistance you receive. This gives you insights as to the action you need to take. It allows you to tailor your change plan, making it even more relevant to your stakeholder needs and giving clear direction for the future.
Second, over-communicate versus under-communicate. Look for information gaps or misconceptions and tailor your messages to correct them. Cultural change and development in teams are based on cultivating interpersonal openness and trust. I've worked in a large multinational coaching several teams during a pivotal change process. One team struggled very much with these issues. Over several months, we were able to co-create a safe space where all team members – even the "old guard" – were able to bring their whole self, questions, and problems openly into the team discussion. Something to note here is that questions from stakeholders can sometimes be interpreted as resistance, when, in fact, they are seeking more information. Provide a safe environment to discuss challenges and fear factors. Empathy, encouragement, and an opportunity to be heard are sometimes enough to demonstrate that the change team and leadership are prepared to listen and understand concerns.
LLI: What are concrete success factors?
Karla Schlaepfer: The core philosophy of agile change management is people over processes. This is at the heart of all agile philosophies and agile change management. Each step of the process can change if it serves the stakeholders and the team better. Their satisfaction takes precedence over everything else and will often later play out in employee satisfaction and health. No agile change management approach is set in stone. Feel free to adapt according to the unique needs and the culture of your team.
Change never ends. Not in life and not in the legal business. But there are some clear success measures, and these should be tracked. Recognize the involvement and hard work of the people and teams willing to innovate and put the effort and long hours towards overcoming challenges. This inspirational support helps create a culture of growth, loyalty, and resilience. Make sure you celebrate the wins and highlight the success stories along the way. Appreciation, recognition, trust, and a good working atmosphere are essential in working environments.
But not only on the emotional individual level but also on the operational level, the demands of employees have changed significantly. More flexibility is expected: no rigid "nine-to-five job" structures, self-determination, and more participation in decision-making. With transformative change measures now firmly on successful corporate agendas, these proactive steps create the right conditions for an agile, forward-thinking legal firm people-centered culture where legal professionals want to engage, and achieve great work for great people.
After all, changes in companies are always about changes for the people – both employees and leaders who work there! In fact, one silver lining of the pandemic is that it taught us all a big lesson: if you don't focus on the "whole person" at work, all these individual steps won't add up. Providing your people with holistic support on the change journey is the core of successful change management.
LLIWHITEPAPER | Nº 1 (DE) | 2022 |