Hybrid Work 5 tips for success
What do Porsche, SAP and salesforce have in common?
They are all embracing some form of continual remote or hybrid work in the post-pandemic phase.
For Porsche, it is 10 flexible days a month. Employees can decide where they work – at the office or in home office. At the SAP group, folks get a choice of remote or in-office after internal polling found that 94% of staff wanted to take advantage of greater working flexibility! 
The COVID office shutdowns jump-started many of us into fully remote teams in home office. Now termed FROGS (fully remote organizations), teams learned quickly how to cope with virtual working and intuitively acquired a range of New Work values. Necessity made for resilience and creative solutions. Now that some businesses and offices are slowly reopening, new hybrid teams are emerging, and it is time for leaders to act.
The future of New Work is hybrid!
What is hybrid working and why do people want it?
Here's an example. In a recent Microsoft poll, 88% of managers want to retain the cost-saving benefits of remote working and 72% of employees polled want to keep the choice of working from home and not commuting. A favorite model is the hybrid one, one with the best of both worlds. This might look like, 2 days home office and 3 days in-office or "co-located." The office becomes less a place to work and more a space for communication and exchange, training, and workshops, and celebrating with colleagues!
Advantages of hybrid working are many and the models can take different forms. These models are highly adaptable and individual but always allow for individual flexibility and meeting business needs. Today's manager of hybrid working must seek compromises, experiment, sometimes juggle competing wishes to establish viable solutions. Planning and foresight are essential. Here are some possible models:
Co-located: All employees work on-location in a shared office space

Hybrid and Role based Remote: Certain roles are fully in person, others are fully remote, some are a mix – hybrid.

On-site Overlap Days: People share the same 1-4 days a week in person.

Fully Remote: All employees work 100% remotely but may come together a few times a year. The company does not have a physical office.
Hybrid work is harder than remote work
Old-school, in-person management techniques no longer work.
Remote work and managing direct reports in hybrid working involves not only a plan to create an inclusive culture but also an assessment and coordination of roles. Which employees must be together to work on specific operational processes? And on which days in the month? When is it more advantageous to have people with certain skills work on-site together and how can synergies in this time slot best be leveraged? This is a new kind of meta-coordination. Some businesses are hiring "Head of Hybrid Work" to carry out the coordination with all the involved parties and their corresponding roles. 
Hybrid working involves not only coordination of the working roles but of course the choice of the right virtual communication tools. Employees have had some practice in the last months getting comfortable with and understanding best practices for using video conferencing, digital brainstorming platforms, chat tools, and more. These tools are the fundaments for all forms of virtual team working. But there is more to it than tools! For teamwork to be successful new hybrid routines, communication norms and habits are vital. Cultivating team culture remains a top priority!
Make sure you, as a leader, treat the team members – both remote and in-person - in the same way. Upskill your soft skills to include recognizing what is called the "distance bias". Our brain's natural preference to focus on things and people that are closer than farther away. Prof. Daniel Kahneman has identified how different biases can impact and skew our perception and thus play a part our virtual working relationship. Hybrid working calls for a different approach to communication so that everyone feels fairly and equally treated. 
Overcome unconscious bias models to improve working across distance
To do so, you can follow these 5 tips:
Make sure you treat team members - both remote and in-person - equally. 

Be intentional about building relationships with your on-site and remote direct reports alike. For example, hold regular virtual coffee meetings with your remote employees to establish a personal connection and show genuine interest in their lives, especially with introverted employees. 

Consider all your direct reports when assigning projects, rotations, or promotions. Select the best person for the job, not just the one presumably closest.

If you have questions about a project or business issue, go to the "right" person to get the answer, rather than the person nearest to you.

Focus on visibility and inclusion: Insist on using video conferencing software so everyone – remote or in-person - has a (virtual) seat at the table. Proactively invite remote people into the discussion by using a "buddy system". The bubby who is present in the room makes sure that the online colleague is seen and heard. Strategies to include these team members who are logging in virtually and paying attention to their needs are critical in keeping your entire team connected.
Team inclusivity has never been more important than it is today
It is critical to be a role model for inclusivity. A hybrid mindset helps you as a leader plan for the part of your workforce that won't be "in the room,". This stance ultimately ensures greater productivity and employee satisfaction. It's up to the leaders to create more awareness of the challenges that hybrid working brings and to upskill. As an example, you can use your repertoire of new practices to lead the way for your team and direct reports. This builds confidence and instills trust.
As we transition from COVID remote working to post-pandemic New Work aka hybrid, now is the time to assess, design and map out new hybrid processes. Today's successful digital leaders must evolve their skills, goals, and strategies to succeed in a geographically dispersed world.
Karla Schlaepfer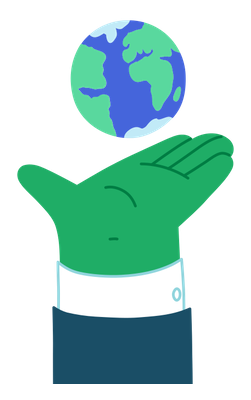 TEASER: How to adapt your organization to the post-pandemic working world. Hybrid work is the combination of remote work (home office) and in-office working (co-located). Here's why hybrid is important, 5 elements that you should know as a leader to create new routines that supports team cohesion and ultimately sustainable productivity.