Karla's interactive talk at the Social Impact Week June 6-10. Inspired by S.Lyubomirsky (The How of Happiness); leveraging joy for social impact.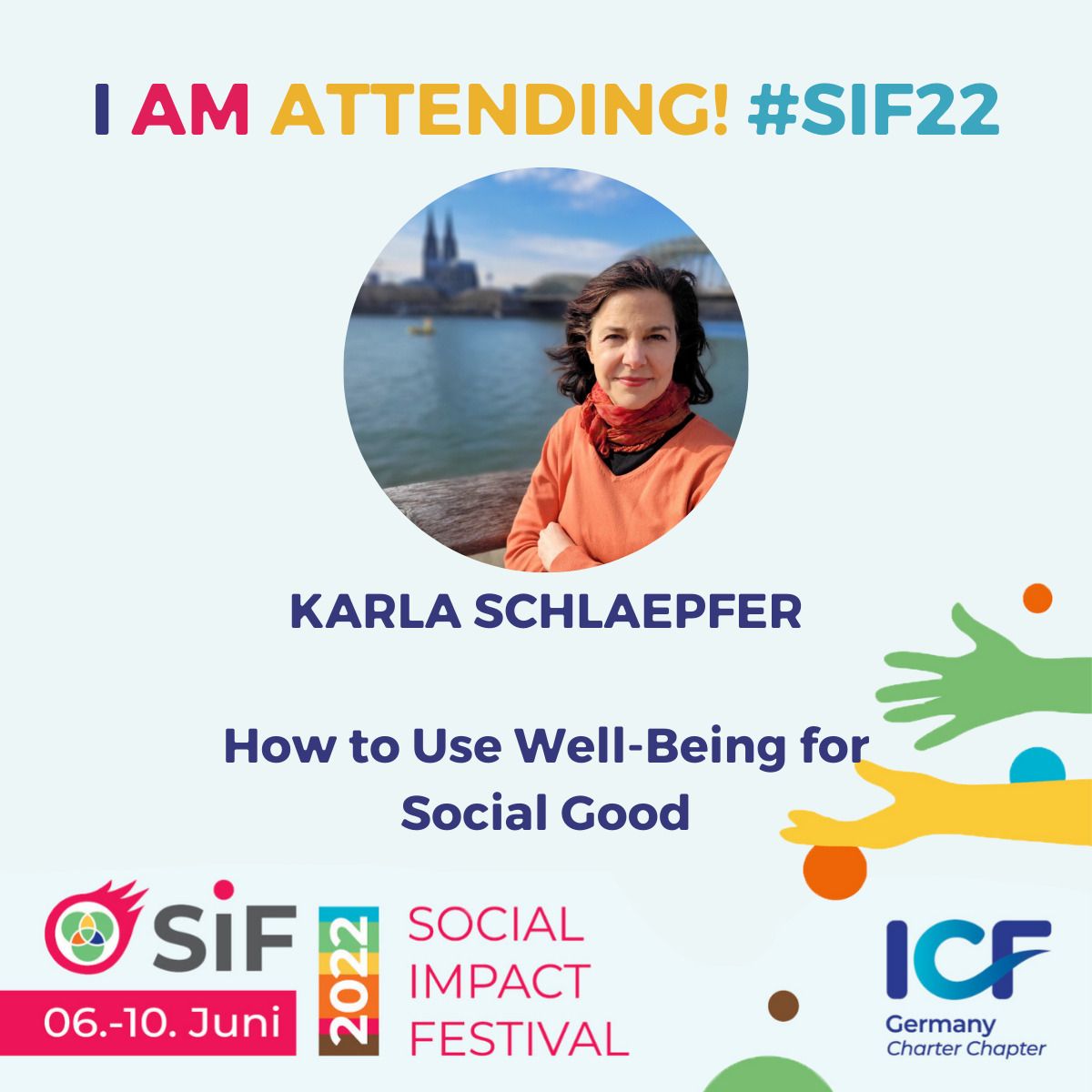 Professional Coaches. Coaches are unique people. We are constantly co-creating, facilitating, and accompanying change. Our impact is always measured by the client, often with the organization. Together with ICF (International Coaching Federation) Germany, we coaches want to be the ones who use our skills to make things better at the first-ever Social Impact Festival.
What is it about?
During the week-long Social Impact Festival 💥we celebrate the transformative role coaches can play in creating a more diverse, equitable and sustainable future. We'd like to invite you to get inspired 😊
Where do the earnings go?
All proceeds will be donated to a just cause🎉 As participants, you will have a say in where the money goes. You'll also have several Eventbrite ticket prices to choose from, allowing you to decide on the amount of your contribution.
Social Impact Festival Program:
👉🏽 Monday: on Pentecost Monday, we'll send you some inspirational thoughts to help you "groove" into the week. As an optional pre-event for those who feel like sharing on the holiday, there will be a casual digital coffee offered too.
👉🏽Tuesday - Thursday: Inspiring lectures and workshops (online), from which you can choose the ones that particularly appeal to you.
👉🏽 Friday: In a joint BarCamp, we'll discuss what inspired us most, what we learned, and how we can apply it in the future. There will also be room for your further topics.
I'm so excited to be offering an interactive talk on one of my favorite topics: well-being, not only for lawyers, based on the work of S.Lyubomirsky (The How of Happiness) and leveraging joy for social impact.
More details on the talks and workshops, for example, on creating a fair economy, achieving a common good, and bringing love, trust, and community to our work.
Check out the Festival website for more information and to book tickets!
Hosted by: ICF Germany Charter Chapter e.V.